Most people pay Stamp Duty Tax when they buy a property over a particular price in the UK but last July, the Chancellor, Rishi Sunak, announced that stamp duty was being partially suspended on all English property transactions up to £500,000 (£250,000 in Wales and Scotland) - a stamp duty holiday in effect, saving any buyer up to £15,000 in tax on the purchase.
However, the property needs to have been purchased and bought by the 31st March 2021. Complete the transaction a day later, and those buyers will have to pay stamp duty.
The issue is that local authorities are snowed under with local search requests, and mortgage companies and conveyancing staff are working from home, so property transactions are taking much, much longer. This means many St Neots (and UK) buyers who have currently sold subject to contract, may miss out on the stamp duty saving.
Most estate agents have been warning the buyers and sellers in their property chains that some deals might not make the 31st March 2021 deadline but luckily, most people aren't moving because of the stamp duty holiday, it's just been a big bonus!
Parliment to discuss an extension.
A campaign by one of the national newspapers and an online petition to extend the stamp duty holiday has meant the topic could be debated in Parliament in the next few weeks. Over 100,000 home buyers and sellers signed the petition, asking for an additional six-month stamp duty holiday because they are worried the property market will collapse after March 31st when the stamp duty holiday is removed.
The last time British home buyers were conscious of upcoming Stamp Duty changes it distorted the number of properties sold.
In November 2015, the Chancellor, George Osborne, announced in his Autumn Statement that buy to let landlords would have to pay an additional 3% in Stamp Duty (over and above owner occupiers) for all property bought after the 1st April 2016.

As shown in the graph below, this caused a surge in property buying, similar to what we've seen since this summer with the stamp duty holiday, with many St Neots buy to let landlords dashing to complete their property purchase in March 2016 before the tax increase.

In the 3 years of 2015-17, the average number of St Neots and Huntingdonshire properties sold (transactions) per month was 278, yet the month before stamp duty was changed in March 2016, transactions rose to 432, an uplift of 55.3% from the average or an extra 154 transactions in that month alone.
Yet, look at the months of April and May, the property transaction numbers slumped, meaning in those two months combined, there were 132 less transactions.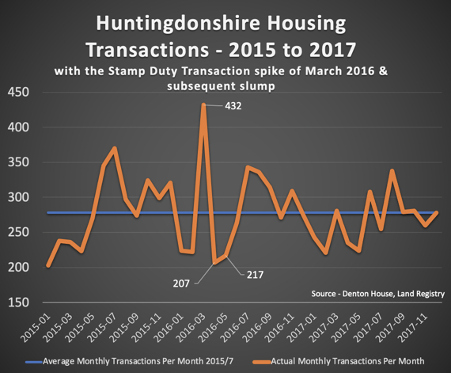 If the Stamp Duty Holiday isn't extended, what will that mean for the UK and St Neots property market?
London and the South East seem to be particularly exposed to the removal of the stamp duty tax break because it has such a high proportion of properties priced between £300,000 and £500,000. These areas benefit from the highest tax savings relative to house price. So, with the average value of a St Neots home at £315,600, the stamp duty cost if the sale is delayed after the 31st March 2021 is £5,780 – a figure that hopefully won't break the bank.
What can you do?
My advice to all buyers and sellers is to be constantly talking to your estate agent, your solicitor and your mortgage broker.
Ask your estate agent if they have ascertained if every person in the chain has asked the question "What if we don't meet the stamp duty deadline?" and talk to your mortgage broker and solicitor to make sure you have given them all the information they need so there are no delays with any information they request from you.
One final thought.
Some mortgage providers allow insurance policies to be purchased by your solicitor in case your searches from the local authority aren't back in time. The cost of those will be much lower than the cost of the stamp duty. Ask your solicitor for more information.
And, irrespective of whether you are a client of ours or not, if you would like a chat about anything mentioned in this article, don't hesitate to contact us.